Hello all! This is my first post for July and my first post after my month-long hiatus. It's great to be back but unfortunately something bad happened to me... well first I'll start off with the good news.
I've finally bought a new phone - Samsung Galaxy S2! Actually, I started a plan two weeks ago and have no paid a single cent yet (still got a while until the bill arrives). I contemplated getting the Samsung Galaxy S3 since it only just came out however I wasn't too happy with the design and appearance (for some reason it looked cooler online lol) so I settled for the previous model which I am really happy with thus far.
Here comes the bad news... from being quite a noob with my new phone, I accidentally ticked the 'select all' box and deleted all of my photos on my phone (including the ones on my SD card) and wait for it... I stupidly had Google Picasa images automatically synced onto my phone. If you're using Blogspot then you know exactly what that means.... yes, I deleted ALL of my blog's pictures. In total I deleted 2000+ pictures in a matter of seconds... AND THERE'S NO WAY I CAN GET THEM ALL BACK! Far out, I was extremely frustrated and I wish there was an undo button or a recycle bin on the Android operating system. How could I be so stupid T__T I only wanted to delete one photo. I panicked like mad and seeing my blog after all the pictures were removed was devastating. It broke my heart. I've been blogging for over 2 years and the hard work of taking photos, editing them with watermarks and uploading them felt like it has gone to waste. I am such an idiot. Right then and there I felt like totally giving up on blogging.
And what do you know, I'm still here.
Luckily I still have 98% of those deleted photos on my laptop and external hard drive so they aren't exactly deleted forever but they're just not on my blog anymore. I couldn't be bothered re-uploading all of the pictures of past posts so I just did a few.
I definitely learnt the hard way and I have now disabled the syncing. I don't mind re-uploading past pictures from my old blog posts - feel free to make a request!
So now to what I really wanted to blog about!
This will be a hair post using a ponytail extension hair piece from
KKCenterHK
:) Since I already have long hair, I went for the longest hair piece available on the website:
$14.01 USD
Here I am modelling the hair piece
To the people in the Northern Hemisphere who are experiencing warm/hot weather right now, sorry if the sight of a jumper is making you cringe - it's freezing in Australia right now! I was still cold wearing the jumper :P
This is what it looks like and it is in the shade #2T30 (lighter than this picture)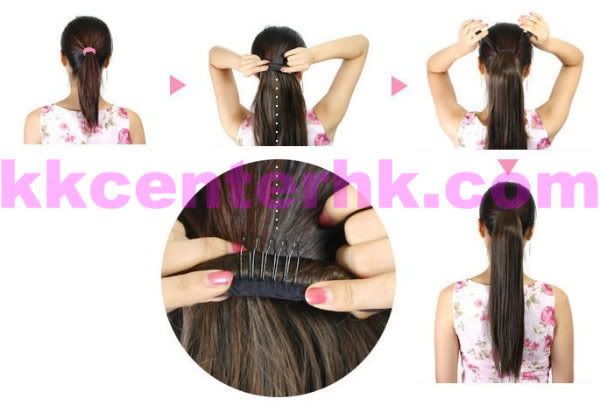 Instructions on how to wear the hair piece (clip and tie)
The length of my hair from my scalp to my ends is approximately the same length as this hair piece. When I wear the hair piece with a high or low ponytail, there is definite length added and so I am glad that I chose this length over the shorter ones which probably wouldn't have made much difference.
Correction, my hair's length not tied up!
The extensions' synthetic hair is so...much...more...silkier than my hair!
It was difficult to pick out the exact colour to match my dyed brown hair. I did my best~
I like how there's a ribbon to tie the hair extension on which also makes a nice hair accessory
It goes past my hips
(Irrelevant but the word 'hips' just made me think of the word 'hipster'... how did that come about?)
Pros (+) and cons (-):
+ Simple to apply and remove
+ Synthetic hair is silky and smooth, easy to brush through
+ Wide range of shades to choose from
+ Adds plenty of length
+ Not too difficult to maintain
+ Tie-on ribbon doubles as an accessory
+ Comes with washing instructions
- May be a little costly for some ($14USD)
- Strands fall out while being brushed
- Does not look very 'natural' due to the shine
- Prone to static-ness, tangles, frizz
- Would not be as long-lasting as human hair extension pieces
So to sum it up, I reckon that this hair piece would be most suitable for a dress-up/cosplay thing rather than for daily use, but of course it is completely up to the person wearing it.
For any of your purchases from KKCenterHK, you can have 10% off using my code which does not expire until next year: BLGB345JL10
~~~~
The other reason why I decided to do a hair post today was because I'm getting my hair cut and dyed next Thursday! I'm really excited because this will be my first time getting my hair dyed by a professional and it'll be my first time attending this hair salon. I got this from a Groupon deal which I will blog about next week.
And it was appropriate for me to review this hair extension piece before cutting and dying my hair a different shade.
I would like to only trim my hair though I wouldn't mind if the hairdresser snips off no more than 10cm. But I don't know about the style.... layers? Thinner hair?
So I'd really love some help from you guys before I go to the hair salon :D My questjens of the week are back hehehe:
1. What colour do you think I should dye my hair? Something suitable for Winter perhaps?
What I have on my mind right now are various shades of dark brown, reddish brown and dark purple if that's possible. Ahaha, they just remind me of winter colours. It would be awesome to go lighter though... but then the regrowth :(
2. Should I have a short side fringe or grow out my bangs?
In most of my pictures I have short side bangs but they've grown out and now they look like this:
I look more mature like this! But does it suit me...?
HELP ME PLEASE! I'M VERY INDECISIVE
Thanks for reading this post guys! I'd really appreciate the feedback